Class assignments will be posted here:
Assignments are listed in chronological order below – the NEWEST assignment(s) will be posted at the top of the page as we move forward. Past assignments can be found by scrolling down towards the bottom of the page.
**Assignment Submissions Reminder – When you complete each assignment, please e-mail me to let me know – always add both your production files (.psd or .Ai) as well as a .JPG version of the assignment into your folder in our shared Google Drive (the link is located on our Canvas page in the NYIT portal)
Please label finished work indicating that it is a "Final" file submission – here is an example below:
Ryan_Seslow_Assignment#1-Final.psd
Ryan_Seslow_Assignment#1-Final.JPG
Assignment # 3 – Advertising Hack / Remix & Promotion
Students will complete this assignment using a full color palette of their choice (at least 4 colors at minimum)
Specifications: Students will first gather research imagery to work with and bring it to class nest week. We will be creating a new series of 2-3 digital art works / digital illustrations that hacks and remixes existing advertising content. (What era of advertising do you resonate with?) The remixed designs should communicate and promote a product or a service. The product or service should be something that currently exists or has at one time existed in the "real world" as we know it. Your remixes can be "hybrids" by combining 2 or more products together, or you may choose to remix the way that the imagery is displayed. Either way it should be a very noticeable series of iteration. Aside from producing individual designs as imagery / files we will apply our work using product mock-ups as well. We will discuss context during our zoom sessions.
Examples to Explore: 
Google Search results for –  "1980s Advertising Posters"
Google Search results for – "Food Ads 1990s"
Free product mock ups in PSD format – https://graphicburger.com/mock-ups/
Software: students can work with familiar design software (not limited to adobe) that can produce the final digital art works.
Size: The size of the completed digital artworks are open. Students can decide but I suggest considering that you work consistently in scale and relationship to your regular workflow.
Submission or work in Process – Students will present their work in "sketch / concept progress" in our next class.
Assignment #2 – Self Portrait Vector Poster
The inspiration details for assignment #2 have been 1st published in the Week #5 blog post – you can find that here,
We will bring together the applications of a vector portrait, composition, image, typography, animation & ZINE layout. This is a multipart / fragmented project. (I know, super fun!)
PART 1: 
Museum Exhibit Poster (examples will be shown in class – as well as a series of Illustrator vector demonstrations)
Choose one or more of these styles/movements of art to create a vector based poster using a SELF-Portrait: (thats YOU!)
POP ART, SURREALISM, MEXICAN MURALISTS AFRO-FUTURISM, ANIME/MANGA, POLITICAL ART, FAUVISM, AFRICAN MASKS, ANIME, VIDEO GAMES or (Another Style Not Listed Here or create a Hybrid using 2 or more styles)
Process: Research! Find and discover a series of images and references to work from. Your research should inspire you! Create a new project folder titled "Portrait Project" – save these images to your project folder in our google drive. Create your self-portrait in the style of the Art Movement that you chose for a Museum Exhibition. It should be kind of obvious which style you picked without seeing the title.
*Your self-portrait IS the artwork for the poster campaign that you create for the exhibit. You must design the poster in 2 sizes – one landscape version and one portrait orientation version. I suggest 11" x 17" (or slightly smaller)
Your self-portrait must first be drawn in Illustrator (pretty please) and can be brought into Photoshop later for manipulation, (like adding blended color, additional imagery or effects.) After you illustrate your self-portrait, you'll create the actual poster for the ex­hibit.
Specifications: The museum having the exhibit you've chosen is: SAM, Seattle Art Museum. Find out more about the institution at this website: https://www.seattleartmuseum.org/visit/seattle-art-museum
(Or another Museum of your choice if you wish)
For the project please use the actual SAM logo as it is: (attached as a download link here) *feel free to re-render the logo on your own if you wish. (This does not mean change it)
You may use any of the tools in Illustrator that we've learned or explored and also find and experiment with new ways to draw. You can work from a photo in Illustrator as demonstrated in class. (next week)
**Do the Portrait First. (you may need to make a few versions to get the hang of it)
Then compose the poster. 
**Minimum required copy/text verbiage for the poster is:
Title: New Voices Exhibit (or another title of your choice)
Date: April 15th – May 30th 2021
Opening time and Date: Opening Reception, April 20th 7PM-9PM
A contextual link: https://www.seattleartmuseum.org (or the url of your museums choice)
A Museum logo : *(the S.A.M logo or the one you chose)
Fonts and colors – are entirely student choice. Students may ADD additional copy, but may not delete from the minimum above.
Submissions & Due Dates: Rolling Deadline- Students will submit their work via google drive as both a PDF file saved from Adobe Illustrator as well as a high resolution JPG. saved from Photoshop (I will give a demonstration on this)
**PART 2 – We will focus on creating a series of manipulated versions of the vector portrait using various desktop and mobile applications (the info for this will be placed here soon). The purpose is to further the artwork and create various textures and filters by cross-synthesizing techniques. The new discoveries may be applied as animated versions (not mandatory) of the portrait and then preparing the portraits for a class collaborative ZINE that will be displayed here on our class website. 
Assignment #1 – PostCard Design / Hack, Redesign & Animate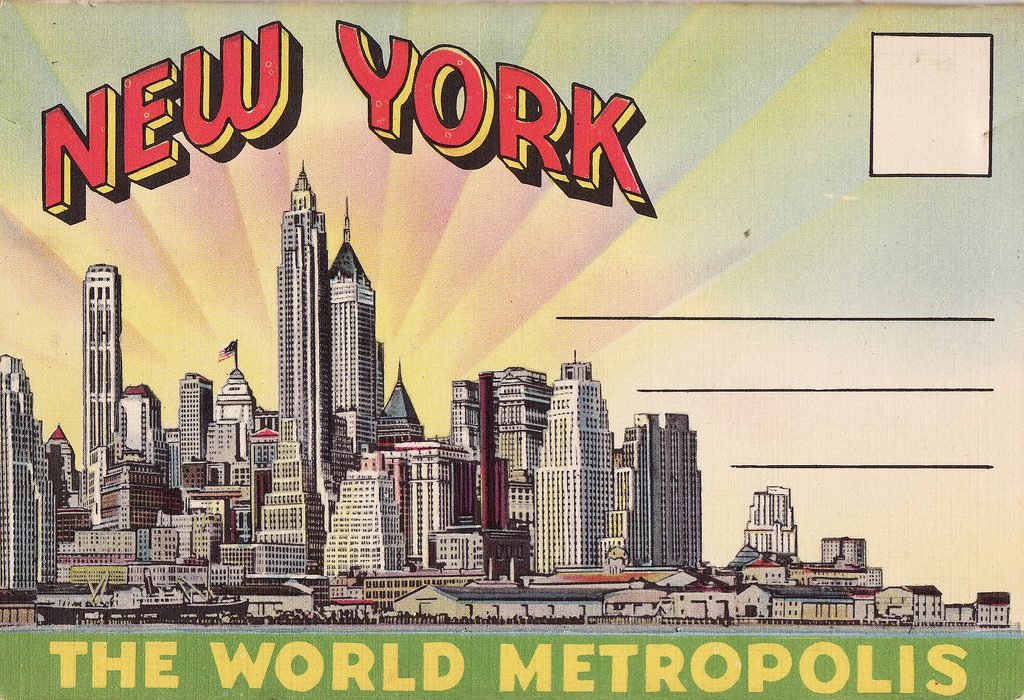 This is a multipart project, we will be converting the static image to animation – We will be designing a new series of standard sized Postcards to promote and communicate the following messages below (students must choose one)
1– A place in the world that you would like to travel to.
2 – A fictional up and coming event that you will attend.
Assignment Specifications:
Size: The final designs will be 4″ X 6″ in size. (Students should decide on the arrangement of the height and width, will your postcards be a horizontal or vertical image? You will be designing both the front and back side of the post card with the full intention of mailing it so space must be allotted for the address and postal stamp. We Hack, Recompose & Remix –> process ->
Process: 
R&D – Where will you find visual inspiration and research? Flickr? NYPL Digital Archives?
1 – Thumbnail sketches – Students will generate a series of 2-3 thumbnails sketches using a pencil / pen and their sketchbooks to brain storm and illustrate their process.
2 – Not mandatory but students will be encouraged to produce a final comprehensive pencil rendering scaled to size ready for scanning and application using photoshop. Students will experiment with various image manipulating techniques and styles to develop contrasts and visual interest.
Production:
Students will prepare their final work for both print out put in (CMYK) as well as presentation and application on the web (RGB).
What images will you be referencing and using? Where did you find them? Are they free to use, if so, how do you know? Please bring all of your resources and research to class. Thumbnail studies and a rough lay out.
Examples – Check out this blog post – https://www.ryanseslow.com/remix-fun-with-a-vintage-postcard/
Part 2 –  Students will search for and discover a Vintage Postcard from the Internet. You will remix and recompose the postcard into 2-3 varations.
Part 3 – Static to Animation – Students will cut and break up their postcards into several graphic assets and apply animation techniques learned in class. Animated postcards will be explored as methods of communication, advertising and marketing.
Project / Assignment Due Dates:
The static postcards will be worked on in class on (dates) and then added to your Google Drive folder in our shared class folder located here: